Below is a list of recommendations for the current popular flagship mobile phone
iPhone 13 Pro – flagship mobile phone from Apple
Processor A15|6G 128/256/512/1024|System iOS 15
12 million pixels, telephoto lens, F2.8|12 million pixels, wide-angle lens, F1.5|12 million pixels, ultra-wide-angle lens, F1.8
Super Retina XDR|ProMotion adaptive refresh rate|6.1-inch OLED full-screen 2532×1170 pixel resolution|460ppi
3095mAh|20W wired fast charging|15WMagSafe wireless charging|7.5W wireless charging
When I was looking at the parameters of Qualcomm processors, I read a lot of comparison articles, and I had to be in awe of Apple. Apple's processors are firmly in the first place every year. It is difficult to be the boss. The Apple A15 chip is performance. The perfect combination of practicality, including the processors launched every year, basically had no rivals when they were launched that year.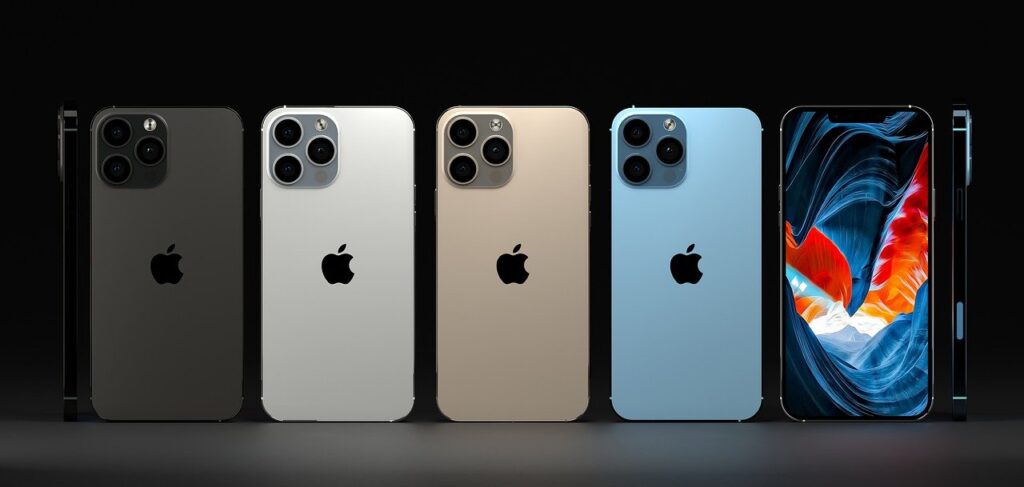 The A15 has thrown Qualcomm more than a little bit, and basically, I have never heard of any shortcomings, including heat dissipation problems. Of course, the price is high. The starting price is undoubtedly the biggest for small partners who want to try the flagship model with a low budget.
The biggest improvement for this generation of iPhones for daily use is the ProMotion adaptive refresh rate technology and the super retina XDR display. Apple stared at several fixed high-refresh Android machines at the end of 21, and still maintains the self-service features that have been equipped on the iPad Pro for 17 years. Adapting to a high refresh rate, this technology is not difficult or simple, in addition to hardware support, Apple's software support is very strong, use low refresh rate when you don't need it, reduce consumption, use high refresh rate when you need it, and enhance vision Experience, at present not all APPs can perfectly support high refresh rate. It can only be said that Apple leads the trend. Just look at several new Android phones launched this year, and they are all using adaptive high refresh rates.
---
OnePlus 10 Pro – iPhone 13 Pro – flagship mobile phone from OnePlus
Qualcomm Snapdragon 8 Gen1|8/12G 128/256|System ColorOS 12.1 (based on Android 12)
4800W main camera Sony IMX789 (OIS optical image stabilization) | 5000W wide-angle Samsung JN1 (OIS optical image stabilization) | 800W telephoto | Hasselblad second-generation mobile phone imaging system
Samsung AMOLED E4 flexible screen|Corning Gorilla Glass Victus|1-120Hz refresh rate (LPTO2.0)|6.7 inches 3216*1440 (2K)|525ppi
5000mAh|80W wired fast charging|50W+10W wireless fast charging|Wireless reverse charging|USB3.1
OnePlus used to be a brand aimed at mobile phone enthusiasts, and its brand tonality is different. OnePlus is a brand that sells better abroad than in China. It will integrate with OPPO in 2021 and become an independent brand under OPPO. OnePlus products are more easily accepted by everyone. The 9RT at the end of last year is indeed the most balanced machine in the post-Snapdragon 888 era. It is the machine with the best heat dissipation of the 888 at present. After solving the heat dissipation problem, the biggest short board of the 888 is also solved.
Up to now, the latest Snapdragon 8Gen1 mobile phone is the OnePlus 10Pro. Combined with the previous article, although the Snapdragon 8 is controversial, it will be the flagship this year, as consumers have no choice, continue last year's LPDDR5+UFS3.1 In addition, the heat dissipation of OnePlus has been promoted as its selling point as always. The current Snapdragon 8Gen1 model is the same, with a heat dissipation area of up to 34000mm², which is almost twice the heat dissipation area of the OnePlus 9rt.
In addition to the processor, the biggest upgrade this time is the upgrade of OnePlus to game functions. This time, the new HyperBoost graphics heterogeneous technology makes the game frame rate more stable, better controlled, and faster to start. The Snapdragon processor has the largest problem of frequency reduction in the game. OnePlus has especially improved it this time. In addition, the screen touch response and swipe have been strengthened to a certain extent. Perhaps young people use high-end mobile phones to pursue the ultimate gaming experience. Plus, this time, it mainly focuses on the game field. In addition, on January 11, the OnePlus 10Pro will become the Peace Elite Professional League and League of Legends The designated machine for mobile game events should be the biggest affirmation of its game performance. After all, it is very difficult to certify the machine for gameplay.
This year, the mainstream Android phone changed the global high refresh rate and began to turn to adaptive refresh. The OnePlus 10Pro is equipped with a Samsung 2K+120Hz LTPO2.0 flexible screen, which can achieve a free refresh rate of 1~120Hz, which can deceive the human eye and improve at the same time. continued.
OnePlus 10 Pro has upgraded the second-generation Hasselblad imaging system this time, maintaining the previous-generation custom Sony IMX789 main camera sensor. This time, it is still a strong promotion of Hasselblad's adjustment. I believe that the photos brought to us this time. Performance has improved even more.
In addition, the OnePlus 10Pro is equipped with a large 5000mAH battery, which supports 80W wired flash charging and 50W wireless flash charging, and it only takes 32 minutes to fully charge with the original charger. Battery life is firmly at the forefront.
At present, the price of the OnePlus 10Pro top configuration is 100-200 yuan cheaper than the price of the Snapdragon 8 flagship top configuration launched by Xiaomi and IQOO at the same time.
---
Mi 12 Pro – iPhone 13 Pro – flagship mobile phone from Xiaomi
Qualcomm Snapdragon 8 Gen1|8/12G 128/256|System MIUI 13
5000W main camera IMX707|5000W portrait Samsung JN1|5000W ultra-wide-angle Samsung JN1
AMOLED E5 flexible|Corning Gorilla Glass Victus|1-120Hz refresh rate (LPTO2.0)|6.73 inches 3200*1440|522ppi
4600mAh|120W wired fast charging|50W+10W wireless fast charging|wireless reverse charging
Xiaomi Mi 12Pro is the first domestic Snapdragon 8Gen1 model to be launched. Xiaomi's machine believes that many people have feelings. Although the performance of the previous two generations was average, Xiaomi's fever tonality has been accompanied from beginning to end. Boss Lei is a workman. good boss.
Also read: Best Camera Phones
The Snapdragon processor does not pursue the best performance, and the flagship Android has too few options. It is the most important issue to keep the processor in the best state of heat dissipation. The Xiaomi Mi 12 Pro has introduced its heat dissipation in detail, I believe the cooling is stable this generation.
Xiaomi continues the 2K screen of the previous generation flagship and adopts the Samsung AMOLED E5 screen. In addition to supporting adaptive high refresh, this screen is one of the best Android screens at present, with a peak brightness of 1500nit and a touch sampling rate of 480Hz.
The Xiaomi Mi 12 Pro replaces the 11-telephoto lens with a portrait lens. Although it does not have a telephoto function, it has a strong focus tracking effect.
Equipped with 4600mAH battery, 120W wired fast charge, 50W wireless fast charge, and 10W wireless reverse charge, the fastest wired 18 minutes to fully charge.
---
IQOO 9 Pro – iPhone 13 Pro – flagship mobile phone from IQOO
Qualcomm Snapdragon 8 Gen1|8/12G 256/512|System Origin OS Ocean
5000W main camera Samsung GN5|5000W wide-angle fisheye|1600W portrait
AMOLED E5 flexible|1-120Hz refresh rate (LPTO2.0)|6.78 inches 3200*1440|517ppi
4700mAh|120W wired fast charging|50W+10W wireless fast charging|wireless reverse charging
IQOO is a sub-brand of Vivo. It has been KPL's exclusive game mobile phone since the first generation. Therefore, IQOO is positioned as a high-performance mobile phone suitable for young people. This generation uses BMW's design color scheme, legendary white, and BMW's three-color strip. Fortunately, there is a low-key black, and I can't accept being fancy.
In addition to the Snapdragon 8 as always, the IQOO's pressure dragon configuration adopts a VC three-dimensional cooling system, a large-area graphite heat dissipation structure, which is used to deal with the high power of the Snapdragon 8.
As a big name in the field of gaming mobile phones, IQOO uses an independent display chip, which can improve visual fluency and meet the high frame rate gaming experience. In addition, it shares the rendering pressure of the GPU and reduces power consumption.
After all, it is a brand of Vivo, and the 47mAh battery uses a 120W flash charge, which can be fully charged in 19 minutes.
---
Honor Magic V Folding Screen – flagship mobile phone from Honor
Qualcomm Snapdragon 8 Gen1|12G 256|System Magic UI 6.0
50-megapixel wide-angle | 50-megapixel spectral enhancement | 50-megapixel ultra-wide-angle
AMOLED||Inner screen 7.9 inches 22721984 90Hz 381ppi|External screen 6.45 inches 25601080 120Hz 431ppi
4750mAh|66W wired fast charge
As a high-end Android model, the folding screen can compete with Apple in terms of price. Of course, it can also be eye-catching. The folding screen is very technological. There are two large screens inside and outside, and the inside can be used as a tablet. It is also the optimization of the system to adapt to these two screens. For people like me who have not bought it, I really can't think of the actual use of the folding screen. Maybe I will like it after I get used to it.
Folding screens have been launched for several years. Whether it is hinges or screens, they can already meet the needs of normal use, including official brand promotion. It is also based on the mechanical structure and design of the folding.
The more important thing about the folding screen is the adaptation of the software. The software that comes with the system will be adapted for the folding screen, making full use of the advantages of the folding screen. Although the third-party software may not necessarily be well-built, the system of the folding screen is not necessarily good. It will provide small windows, split screens, etc., and can take advantage of dual screens.
The battery of the folding screen is one on each side, with a total capacity of 4750mAh, providing 66W wired fast charging, which is not much different from ordinary mobile phones.
Whether the folding screen is the future trend of mobile phones or just a product of show technology, this can only be proved by time, but at present, the actual folding screen mobile phone is still very shocking.
---
HUAWEI P50 Pocket – flagship mobile phone from Huawei
Qualcomm Snapdragon 888|8/12G 256/512|System HarmonyOS, 2.0
4000W Primary Color F1.8|3200W Spectral Enhancement F1.8|1300W Ultra Wide Angle F2.2
AMOLED||Inner screen 6.9 inches 27901188 120Hz 442ppi|External screen 1.04 inches 340340 60Hz 328ppi
4000mAh|40W wired fast charge
As China's largest communications equipment company, Huawei has far-reaching significance and influence on the development of China's communications industry. It is also one of the few domestic brands that can compete with foreign manufacturers.
Huawei's recently launched P50 Pocket, although for some well-known reasons, uses the 4G Snapdragon 888, it is undeniable that the appearance and structural design of this phone is extremely in place, and the three-color schemes can meet the basic requirements. Human aesthetics, machine beauty is like a jewelry box.
Like all foldable phones, this P50 still carefully designs its opening and closing hinges to meet the high-intensity use of users. Secondly, the folding inner screen adopts a 120Hz high brush, the nano-optical film reduces reflection, combined with 1400Hz high-frequency PWM dimming, watching for a long time does not hurt the eyes, although the screen can be folded, the display performance is still strong.
This mobile phone is specially designed for taking pictures and selfies. The external screen can directly let the person being photographed see their appearance, which is especially suitable for girls. Of course, the appearance of this mobile phone is also in line with girls' preferences.