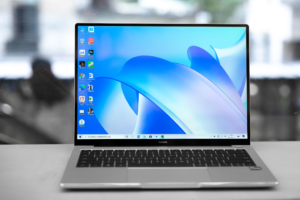 Recalling last year's Huawei MateBook 14 2020, the excellent 2K screen and hardware performance coupled with the smart and efficient platform left a deep impression on us. However, the experience of the new generation of Huawei MateBook 14 2021 is more than that. It continues the familiar DNA of 2K full-screen touch screen, thin and portable machine. It is also equipped with a newly upgraded 11th generation Intel CoreTM processor, with an upgraded Huawei experience.
The Huawei Matebook 14 2021 has an excellent feel to look at and is comfortable to use.
This 2K full screen looks
really
nice.
The 2K resolution is much more eye-catching than the ordinary 1080P. The color and brightness of the screen are also very good. At the same time, the upper left and right borders are only 4.9mm, and the screen display is more immersive.
Switching to daily office usage, the Huawei MateBook 14 2021 display is clear and sharp enough, even when it
is magnified
multiple
times
. Also, the 3:2 screen ratio displays more content.
The parameters of this screen: 2160*1440 resolution, 100% sRGB wide color gamut, contrast ratio up to 1500:1, PPI of 185, 300 nits, and high brightness
.
Not to mention daily video watching and office work, even professional photo editing and video editing is easy for the eyes
.
This screen is also a non-flicker-free screen with DC dimming. Huawei MateBook 14 2021 also has an eye-protection function, with adjustable color temperature.
The touch screen: besides daily dragging, writing, and drawing, one of the most practical functions of the Huawei MateBook 14 2021 is a "three-finger underwriting screenshot
."
Swipe down with three fingers on the screen to start the screenshot, and it can also
directly
recognize the text of the picture
.
The Huawei MateBook 14 2021 has one thing that is very pleasing: the thickest part of the frame is about 15.9mm, which is about 1.49kg lighter
. So it helps you carry the laptop with one hand. In spite of its thin and light body, it has a built-in large battery.
That can
continuously
play local 1080P videos for 11hours with a rich transmission interface, which is
really
rare
.
All these provide an excellent foundation for Huawei MateBook 14 2021 to
be used
in office settings
.
HUAWEI share, smart upgrade / full practicability
It can open three mobile phone windows.
With the help of a new generation of multi-screen collaboration, Huawei MateBook 14 2021 already supports opening up to 3 mobile phone windows on the desktop
. Click the "+" sign in the upper left corner of the main window to open it.
The three applications are open together, and there are more ways to play. For example, one can open 3 shopping apps at the same time and choose goods, and compare prices.
Another example is taking notes while watching a video. This is impossible for mobile phones. Even if the screen
is split
, there is no way to achieve perfect display and operation.
To make good use of multi-screen collaboration, the keyboard, mouse, microphone, and the display of the Huawei MateBook 14 2021
are used
as peripherals of the mobile phone
.
In addition
to opening a variety of applications, it operates
multiple
functions, and the interface process doesn't create a lag
.
For example, I can
easily
drag and transfer files between my computer and mobile phone.
Huawei MateBook 14 2021 supports image and document file transfer, and the speed is
extremely
fast
.
Another example is to see a particularly interesting text material on the phone and want to copy it to the computer for editing
.
At this time
, I only need to copy it on the phone and copy it
directly
on the computer to achieve the effect of clipboard sharing
.
What's interesting is that if you have opened a multi-screen collaboration, after you open a document on your phone, Huawei MateBook 14 2021 will
automatically
open the office for you, and you can edit it
directly
on the computer, reducing the cumbersome file transfer
.
Huawei MateBook 14 2021 also supports notebooks to answer mobile phone audio and video calls, mobile phone information synchronization computer, one-touch screen recording, etc. If you are a user who often goes out to work, the built-in computer assistant of Huawei MateBook 14 2021 can turn on the hotspot with one key, which is very convenient
.
The HUAWEI App Market, which is the first on the HUAWEI PC terminal, can
directly
download, install, and manage third-party applications, and enjoy the full-scene cross-terminal application experience
.
Huawei browser can synchronize bookmarks, history records, multi-window reading lists, etc., to different devices in real time
.
11th generation Intel Core processor / performance jump
With so many tricks, Huawei MateBook 14 2021
naturally
needs strong performance as support
.
The Huawei MateBook 14 2021 model
is equipped
with the 11th generation Intel Core processor i7-1165G7
. The whole system comes standard with 16GB dual-channel large memory and 512GB SSD.
It sports the new NVIDIA® GeForce® MX450 discrete graphics card and the first integrated Iris ® Xe Graphics graphics card of the 11th generation Core™ processor
. Which can
be used
as the basis for a great graphics performance.
Multiple
apps such as PS, office, webpages are running in the background, and small videos can still
be used
in multi-screen mode
. Huawei MateBook 14 2021 did not show the slightest lag.
The measured Huawei MateBook 14 2021 can
easily
keep running at around 150 frames +, and there is no obvious frame rate fluctuation when switching other software back and forth
.
In order to
have better heat dissipation, Huawei MateBook 14 2021 adopts miniaturized customized motherboards and components
.
It
is supplemented by
the third-generation shark fin dual fan + large-diameter dual heat pipe with fast heat dissipation
.
The Huawei MateBook 14 2021 can also bring good heat dissipation even in high-performance mode
.
The last is the case of hard drives.
Huawei MateBook 14 2021 has a continuous read speed of more than 3.2GB/s, and a write speed of more than 2GB/s, which is close to the theoretical speed of SSD
.
It provides a powerful memory foundation for smooth multi-task switching and large files and apps
. The measured Huawei MateBook 14 2021 only takes about 10s to boot.
On Huawei MateBook 14 2021, we can also see some humble but very practical designs and functions.
The first is the fingerprint power button.
Huawei MateBook 14 2021 power supply and fingerprint login button
are combined
into one
. It
is modified
for direct touch to unlock. No need to wait for the login interface to enter the password or scan the fingerprint, safe and efficient. The unlocking speed is very fast, and it also has a small learning curve, and the unlocking failure is good.
The second is portable super-fast charging, which supports reverse charging when turned off.
The Huawei MateBook 14 2021 model
is equipped
with a 65W detachable dual-head USB-C charger, which supports reverse fast charging when turned off, and can work for 2.5 hours after 15 minutes of charging
. The measured Huawei MateBook 14 2021 can charge 15% of the battery in 15 minutes, which is very fast.
The charger of Huawei MateBook 14 2021 is only about 160g, and the travel weight with a laptop charger is only about 1.66Kg
.
Only one charger can meet the charging needs of computers and mobile phones when traveling on business
.
The third is the dual-antenna Wi-Fi 6.
This may be easy for everyone to ignore, but the blessing of dual-antenna Wi-Fi 6 can also save us the trouble of slow transfer of large files
.
Huawei MateBook 14 2021 also has many highlights such as a low-key and luxurious design, a full-size backlit keyboard, and surround sound stereo speakers
.
Huawei MateBook 14 2021
is indeed
a product full of surprises.
By displaying an excellent 2K full touch screen, it provides an excellent office foundation
.
The powerful i7-1165G7 processor provides a smooth performance guarantee for daily use, coupled with intelligent Huawei sharing, thin and portable design, and other features, To bring users an efficient and complete third-generation mobile office smart experience
.