Tesla Electric Vehicle and Energy Company has a history of nearly 18 years, and the global vehicle delivery volume reached 499,500 units in 2020. But at the beginning of its operation, Tesla was just an unknown car company. How did it progress by leaps and bounds in the remaining years, achieving so many feats and milestones?
Although Tesla also produces and sells solar panels and energy storage equipment, its main business is still electric vehicles
.
We might
as well understand the history of the company's rise from the evolution of Tesla Motors.
The launch of the first generation Roadster
AC Propulsion tzero then the fastest electric sports car.
It was a great influence on Tesla's first electric vehicle program in the early days of 2003 is
Te
sla Roadster sports car
.
But for a new company founded by Silicon Valley engineers are still no small difficulty there was
initially
difficult to raise dealer networks and find initial customers
. Musk joined Tesla in 2004 and served as chairman of the board, by leading a $ 7.5 million Series A round of financing.
Despite the capital investment, Roadster's research and development was still
extremely
difficult.
Before developing a roadster-specific powertrain, they borrowed an AC Propulsion tzero as a
test
car and replaced the lead-acid AGM
battery with a
lithium battery, thereby increasing the mileage, reducing the weight of the car, and enhancing the distance the car can travel by 100 kilometers
. This speeds ​​up the performance.
But Tesla was not satisfied with its motor and
gearbox
and redesigned it during the lengthy development time to create its own unique powertrain
.
In 2008, the first-generation Tesla Roadster, which

was developed

for five years, finally came out

.

With the help of a

lithium-ion battery

pack, the car could travel 372 kilometers on a single charge.

The acceleration performance of 0-100 kilometers was also shortened to 3.9 seconds, and the top speed reached 125 miles per hour

.

As the first model, until June 2009, only 500 + units of the first-generation Tesla Roadster

were sold

.
In July 2009, Tesla began to launch the 2010 Tesla Roadster 2.0.
The new model

was equipped

with a display to

monitor

real-time measurement vehicle data

.

It had an upgraded motor to improve efficiency, and some adjustments had

been made

to the interiors

.
In January 2012, Tesla

officially

terminated the production of the first-generation Roadster model and began to switch to the Model S sedan

.
The second-generation Roadster/Tesla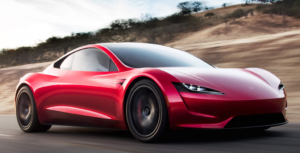 In 2017, Tesla announced the second-generation Roadster priced at $200,000 and

was supposed

to start production in 2020

.

This resurrected sports car model has an astonishing 1.9 seconds acceleration time from 0-100 kilometers,

Speed of 250 miles per hour,

Mileage of

nearly

1,000 kilometers. But 2020 has passed, and we still haven't seen the shadow of the new generation Roadster.
Musk recently replied on Twitter that the second-generation Roadster will be launched in 2021 and mass production will begin next year in 2022
.
Musk emphasized that the three-motor drive system and more advanced battery design are prerequisites for achieving such strong performance

.
Tesla Model S Electric Vehicles
Elon Musk wrote in a 2006 blog that Tesla's main plan is to produce sports cars first and then use the money earned from the sports cars to produce more affordable electric cars
.
Then use the money earned to further reduce costs while achieving zero emissions at the same time
.
So after several rounds of investment and government loans, Tesla finally had enough capital to produce the first Model S
.
Model S prototype exhibited in 2009/Tesla
Tesla's Model S has won many awards, such as the best-selling car in Norway in 2013 and the ultimate car of the year in "Auto Trend" magazine
.
Since the launch of the Model S, Tesla has provided customers with different battery specification options
. At the beginning of the sale, the mileage was as short as 224 kilometers. By 2020, the upgraded version of Model S has a mileage of 647 kilometers.
In 2014, Tesla announced the Model S dual-motor all-wheel-drive version. This version used a dual-motor layout for the front and rear wheels. In the past, the rear axle
was equipped
with
electric motors
to achieve a four-wheel drive.
In the same year, Tesla also launched the Autopilot driver-assistance
system on Model S. It
is equipped
with the following technologies for autopilot driver assist
.
A camera provided by Mobileye on the top of the windshield

A forward-looking radar provided by

Bosch

on the lower grill,

Ultrasonic acoustic positioning on the front and rear bumpers.

The sensor

provides a 360-degree buffer zone for the car.

In aid of this system, Model S can detect road signs, driveways, obstacles, and other vehicles, to achieve semi-autonomous

driving

and parking

.
In 2016, Tesla launched Autopilot2.0 on Model S, adding an enhanced version of the car summoning function, allowing cars to drive from the parking lot to the owner's location under
unmanned driving
.
Model S produced after August 2017 also added the sentinel node, which can sense and record suspicious activities around the car body
.
In September 2020, Tesla began accepting pre-orders for the three-motor performance version of Model X Plaid, starting at
nearly
$120,000
.
It plans to start mass production in the fall of 2020, but the latest news points out that its delivery date has
been postponed
to the end of 2021
.
Model X Plaid has a

maximum

mileage of 840 kilometers

A

maximum

speed of 200 miles per hour,

An acceleration time from 0-100 kilometers in less than 2 seconds.
Tesla Model X and Model Y enter S

UV
Based on the design of the Model S, Tesla developed a medium-sized electric SUV Model X, which began delivery in September 2015
. After
nearly
a year of sales, ModelX has ranked seventh in the sales list of new energy vehicles.
Model X and Model S share approximately 30% of the components, and both
are produced
at Tesla's factory in Fremont, California
.
Model X Plaid/Tesla
The most eye-catching part of Model X is the
eagle wing door
design.
Unlike gull-wing doors, the double-hinged eagle wing door opens in an upward folding manner, which does not take up too much space, so that you can
freely
enter and exit in narrow parking places
.
The long-endurance version of Model X has reached a battery life of 580 kilometers and an acceleration time of 3.9 seconds to 100 kilometers

.

In the future, Tesla will also launch a three-motor all-wheel-drive Model X Plaid to further improve acceleration performance and strive to be the fastest SUV

.
Model Y/Tesla
In March 2019, Tesla released the compact SUV Model Y. As the company's fifth model, Model Y follows the Model 3 development platform, shares 75% of the components, and has similar designs in the interior and powertrain
. This SUV also began to
be sold
in China this year, with a starting price of
nearly
340,000 yuan.
Cheapest choice Model 3
In 2017, Tesla shortened the company's name from "Tesla Cars" to Tesla, and began selling its fourth model, the Model 3 sedan
.
This model will accept pre-orders in 2016, limited production will begin in mid-2017, and production will
be increased
in 2018
.
According to Robin Ren, Tesla's global vice president at the time, China is the second-largest market for Model 3, second only to the United States
.
After the completion of Tesla's Shanghai Super Factory in 2020, the annual output of this new model has been further increased
.
However
, due to the epidemic and supply chain reasons, Tesla's first batch of Model 3 delivered in China still uses HW2.5 hardware instead of the advertised HW3.0, and later provided free upgrades for affected customers
.
Model 3 also offers two versions of standard battery life and high performance.
The standard version uses a rear-wheel-drive design, with a battery life of 468 kilometers and an acceleration of 5.6 seconds per 100 kilometers

.

The high-performance version increases the cruising range to 605 kilometers and the acceleration performance from 100 kilometers to 3.3 seconds under dual-motor all-wheel drive

.
At the end of 2019, Tesla announced the first electric pickup Cybertruck at the press conference
. The strong "cyberpunk style" of this model immediately became the focus of discussion.
Musk mentioned that the basic Cybertruck will start at less than $50,000, and the self-developed stainless steel alloy body can even be bulletproof
.
The powertrain of this electric pickup truck is
similar to
Model S and X. A three-motor all-wheel-drive version will also
be launched
. But the single-motor rear-wheel-drive version will
be launched
later.
According to the specifications announced by Tesla, the dual-motor version has an acceleration time of 4.5 seconds
.
It has a range of 480 kilometers, while the three-motor version has an acceleration time of fewer than 2.9 seconds and a mileage of 800 kilometers
.
HW's update iteration
Judging from the models released, Tesla is
increasingly
electrifying the entire automotive market.
This is due to Tesla's technical accumulation in power and energy, as well as hardware update iterations
.
In 2014,
to
provide the Autopilot system, Tesla added the first generation of Autopilot hardware HW1 to the car
.
The hardware system
is built
on intel's MobilEyeEyeQ3 platform, which is
mainly
forward-facing radar, camera, and ultrasonic sensors
.
In October 2016, Tesla launched a new generation of HW2, and in 2017 made a small upgrade to the hardware, which is HW2.5.
The second-generation HW uses Nvidia's DrivePX2 computing platform to provide road automatic steering for new models and adds a new driver
assistance
algorithm in version 2.5 to achieve smoother lane maintenance and acceleration and deceleration control
.
In 2019, Tesla launched HW3, a
fully
automated driving computing platform equipped with two Tesla self-developed processors
.
Tesla claims that the new system can process 2300 frames of data per second, which is a 21-fold improvement compared to HW2.5
.
According to Musk, full automation is actually a limitation of the software, and existing hardware knowledge
is used
to develop more advanced AI
.
Although Tesla is always lauded for its design and brilliant engineering, at the same time trouble caused by quality problems is also continuous
. For example, issues such as black screen, spontaneous combustion, and charging.
So Tesla must
strictly
do quality control on the production and design process while increasing its production capacity in the future
.