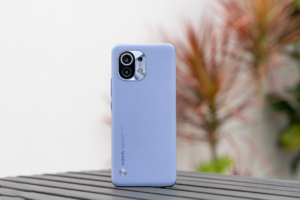 Xiaomi 10 is my favorite product this year. It has good performance, audio, video, and image performance.
Wired and wireless charging are both 30W specifications, although it is not the first with fast charging, but it is convenience to have fast charging for both Xiaomi 10 and Xiaomi 11.
Subjectively
, although the weight of 209g and the FHD+ screen resolution can make the standby performance better, the feedback to the wrist and the visual experience still need to
be improved
.
This improvements have become the part of the successor that I most hope Xiaomi 11.
As the first model of Qualcomm Snapdragon 888, Mi 11 has upgraded the screen to WQHD+, which is 3200×1440.
Therefore
, whether it is playing games, browsing online content, and watching videos, Xiaomi Mi 11 is much more refined than the Xiaomi digital series in recent years
. Through this upgrade, the Mi Digital series is
officially
removed from the 2K slot.
While the screen refresh rate
was upgraded
to 120Hz, the touch sampling rate was further increased to 480Hz, which is 4 times the refresh rate
. Such an improvement is very friendly to mobile game players.
After all, whether it is "PUBG ", or the music games I usually play, higher refresh rate and touch sampling rate is very pleasing
. This makes system feedback more timely, even if you don't turn on the high frame rate.
This screen also uses a new E4 luminescent material, which brings a 1500nit peak brightness and a 10-bit color depth display with more than 1 billion colors
.
With the front and rear ambient light sensors and Xiaomi's self-developed screen calibration algorithm, Xiaomi Mi 11 has outstanding performance in automatic brightness
adjustment
and color management
.
The size of the Mi 11 screen has
been increased
to 6.81 inches, but it is not a chunky piece, but is more slender, bringing a smaller body width
.
The weight of the whole machine is light, the measured 195g including SIM card and screen protector will be more handy when used with one hand
.
As for the four-curved screen design, the curvature of the upper and lower sides is ok, which has little effect on actual use,
mainly
because it can reduce the visual thickness of the whole machine
.
I think
the picture and audio have always been complementary, so with a better screen, the sound quality must
be improved
together
. The sound quality of Xiaomi Mi 11 has been
professionally
adjusted by Harman Kardon.
At the same time, a 1216 super linear speaker unit
is used
at the bottom, which forms a stereo sound with the two-in-one speaker on the top of the earpiece
.
The sound quality and hiding effect of the top two-in-one speakers are good, but they still haven't escaped the problem of different sound on the two sides
. Mi 11 has also adjusted the position of the speaker, so it will not need to hold the camera to play games like Mi 10 does.
On the whole,
I think
the audio and video experience of Mi 11 can still
be praised
.
With the 2K 10bit high-swiping screen and the external amplifier adjusted by Harman Karton, the experience has been further upgraded whether it is playing audio and video, or daily Weibo and games
.
Briefly
talk about the back of Xiaomi Mi 11. This time we got a plain leather version with smoky purple color. I
personally
feel that the look and feel needs to
be improved
. It might be better if the color brightness
is adjusted
higher. At the same time, I look forward to the actual performance of khaki.
The area of ​​the matrix camera module in the upper left corner is not small, and the three-stage design is
visually
harmonious, but it is often encountered when playing games on the horizontal screen
.
The first Qualcomm Snapdragon 888, performance improved again
Xiaomi 11
Xiaomi Mi 11 debuted the Qualcomm Snapdragon 888 mobile platform, and it is the only smartphone product equipped with this chip this year
.
As the flagship platform for next year's high-end Android products, the Qualcomm Snapdragon 888 mobile platform has
been optimized
for performance, network connectivity and power consumption
.
Qualcomm's Snapdragon 888 mobile platform first launched the ARM Cortex-X1 super core, with three A78 performance cores
.
The GPU is
partially
upgraded to Adreno 660, which has
significantly
improved graphics rendering performance, which is up to 35% higher than the previous generation
.
With the third-generation Snapdragon Elite Gaming and AI engine, the performance is
significantly
improved
.
At the same time, Xiaomi Mi 11
is equipped
with a full-blood LPDDR5 memory with a transmission rate of 6400Mbps, which gives powerful performance
.
In order to
be more energy-efficient, Qualcomm Snapdragon 888 uses a 5nm process and has a built-in Snapdragon X60 modem
.
The latter not only provide a better network environment, but also
effectively
control the weight and power consumption of the whole machine
.
In the Antutu running points, Mi 11 scored more than 700,000 points and
successfully
achieved the top spot
.
However
, considering that some models using Qualcomm Snapdragon 865 and 865 Plus platforms have reached about 660,000, Xiaomi 11 should not
fully
realize the performance potential of Qualcomm Snapdragon 888
.
Among GeekBench 5, which focuses more on CPU performance, and Androbench, which focuses on flash memory performance, Xiaomi Mi 11 performs
equally
well
.
In terms of
game performance,
in addition
to a few actual game tests (all based on 2K resolution), I also used Mi 11 to run 3DMark's recently launched cross-platform project Wild Life
. The results are as follows, belonging to Android's current unique high score.
The actual test part of the game, first of all, is the recently more topical mobile version of "League of Legends". With all special effects turned on, Mi 11 ran out of 60.2 frames per second.
It can
be seen
that the game
is maintained
at the highest frame rate throughout the entire process, and no freezes occur
.
However
, Mi 11 keeps the limit of 60 frames per second very well, and does not force it to around 63 frames like some other brands
.
Next is "PUBG ". Considering that Xiaomi Mi 11 uses a 2K screen, currently the bottom layer of Android 11 is not easy to crack.
So I chose the ultra-high-definition picture quality of 4K texture here, but the highest frame rate
at this time
is only 40 frames per second
.
According to the test results, Xiaomi Mi 11 ran 39.9 frames per second in a game.
Considering that the 2K resolution
is used
throughout the test,
I think
the above results are still satisfactory
.
So I also hope that in the future "PUBG " can better turn on the 120fps switch, and after high frame rate games
are enriched
, how will Xiaomi 11 perform
.
Next is the performance of Mi 11
in terms of
charging, battery life, taking pictures and systems.
The first is battery life.
When 5G and Wi-Fi networks
are turned
on, and the screen brightness is 50%, the power consumption of Mi 11 in three games, watching videos, and browsing information content
is shown
in the following table
.
After five hours of continuous testing, the power of Xiaomi Mi 11 went from 99% to 22%.
Considering the pressure of the 2K@120Hz screen and 5G network, the battery life of Mi 11 is still good.
But if you are a heavy user or have a higher battery life
requirement
, you may wish to turn on the smart resolution power saving mode
.
Of course, you can also choose to recharge the blood.
Xiaomi Mi 11 removes the charging head and data cable from the package this time, but users can choose when purchasing
. The official will provide a set of wired chargers for free. It includes a 55W GaN charging head and a USB-A to USB-C data cable.
Mi 11 supports 55W wired second charging and 50W wireless second charging.
After actual measurement, with a 55W GaN charger, it can be
fully
charged in 47 minutes, of which 42% can
be charged
in 10 minutes, and 85% can
be charged
in half an hour
.
For wireless charging, with Xiaomi's 55W wireless charger, it can charge 45% in 15 minutes, 73% in 30 minutes, and full in 52 minutes
.
However
, if it has
been powered
off and turned off, it
is recommended
to put it back again after turning it on, otherwise the fast charge protocol may not
be triggered
.
It should
be noted
that the Xiaomi 55W wireless charger needs to
be used
with a charger above 65W that supports Xiaomi's ultra-fast flash charging, so the 55W charger with Xiaomi 11 cannot achieve full-speed charging
.
Based on the above,
I think
that the phone should not
be charged
until it is dead, and it does not need to be
fully
charged, so the charging time should
be controlled
at about half an hour each time
.
In terms of
images, Xiaomi Mi 11 uses this year's more mainstream matrix rear camera module.
It includes a 100-megapixel Samsung HMX, a 13-megapixel ultra-wide-angle camera and a telephoto macro lens
.
Since the product we got this time
is equipped
with an earlier system, the imaging effect is good under the condition of
sufficient
light during the day, but the
adjustment
at night needs to
be optimized
.
After turning on the night scene mode, Xiaomi Mi 11 can
effectively
improve the brightness of the picture through long exposure, and the noise is much less
. But now there will be a problem of white sky, the background is too bright.
Overall
, Xiaomi Mi 11's current camera performance is average, but the official said that it will
be optimized
in the future system update
. But what is certain is that the camera application of Mi 11 is very easy to use.
For example, when shooting a video,
in addition
to the shortcut options at the top, you can also open the menu as shown on the left, where the resolution, frame rate and various modes are clear at a glance
. This time Xiaomi 11 also supports 8K video recording, but it is still limited to 30 frames per second.
Mi 11 also provides preset templates for VLOG creators, and you can generate short videos with good effects through simple selection and recording
.
The "More" page of the camera provides two designs.
The former has a larger image and is more suitable for placing
commonly
used functions, which can be
easily
called up when needed
. The other is more comprehensive, and both support custom arrangements.
Back to the system experience, the MIUI on Xiaomi Mi 11 itself is a representative of the domestic customized OS
.
Whether it
is localized
functions, small screen applications, game
assistance
, or
overall
optimization, all are in place, and this time Xiaomi Mi 11 has made some improvements in fingerprint recognition
.
First of all, Xiaomi Mi 11 still uses an ultra-thin optical fingerprint module under the screen, which can reserve more space for the battery, while the brightness is lower, and it is not dazzling when used at night
.
Moreover, if you continue to press and hold the shortcut icon after unlocking, the Xiaomi Mi 11 has also added a heart rate detection function this time, and it only takes 15 seconds to detect the current heart rate
.
The
fly
in the ointment is that currently this function can only
be used
in Xiaomi's own health applications
. If it can
be opened
to third-party developers in the future,
I believe
there will be more ways to play.
Xiaomi Mi 11's upgrades
in terms of
performance and screen are well in place, and even a little leapfrog closer to the "big flagship" feeling
.
Among them, the Qualcomm Snapdragon 888 mobile platform brings a performance level that surpasses that of this year's Android flagships
.
Therefore
, the frame rate of Xiaomi Mi 11 is more stable when running large-scale mobile games, which is
naturally
the first choice for enthusiasts
.
But
I think
that the 2K+ resolution 120Hz E4 screen, a thinner and thinner body, and the improved charging rate of both wired and wireless are the more sensitive parts of Xiaomi 11
.
So for a "Midrange" product, Mi 11 is a very qualified upgrade, laying the foundation for a good user experience in this series
.