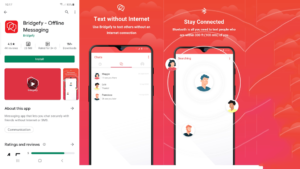 It was July – August 2019, I was in Hong Kong and Hong Kong was witnessing one of its most prolific protests against the Chinese government
.
This is when I heard about how youngsters and college students were using technology differently
. To overcome restrictions put across by the HK and Chinese government authorities. Hongkong protestors were
primarily
using different types of application lihkg,firechat, and Bridgefy.
Bridgefy was
primarily
an application SDK launched for or mesh network communication with an early target of corporate and natural disasters usage
.
But same technology of Mesh networks which
is used
in Bridgefy has come to rescue the protestors in various countries and locations
.
Temporary suspension of Internet Services, blocking of the internet, blocking of applications, forcing application stores to ban apps has been a go-to strategy of both democratic governments and authoritarian governments to overcome opposition and dissent
.
This is where we see the use of Bridgefy which does not use the internet for Telephone Network for sending messages or any form of communication
.
So far Bridgefy has
been used
largely in Hongkong Protests, Myanmar Pro-Democracy protests, Thailand protests
. Iran, Iraq, Turkey, India, Russia, Thailand.
Bridgefy had seen at least 1 million downloads during the Hong Kong protest. It added another 1 million downloads after Myanmar democratic protest in 2021.
Which other protests might drive more adoption of Bridgefy amongst users?
All these sites have
witnessed
a disruption or temporary suspension of network and internet services
.
Military Junta has again overtaken power in Myanmar in the first week of Feb 2021 from democratic parties
.
This has driven the usage of Bridgefy by almost 1 million users in a week.
This will continue to grow
significantly
as people's opposition to the military junta increases in Myanmar
.
Russia anti-government protest 2021:
The Russian government is facing massive anti-Putin protests in the first week of Feb 2021
.
Tens of thousands of people marched in more than 100 cities and towns during January in support of anti-corruption crusader Alexei Navalny
.
The turnout is unusual in a country where political protests in the past 2 decades have
been concentrated
in big cities
.
Farmers Protest India 2020-2021:
The 2020–2021 Indian farmers' protest is an ongoing protest against three farm acts that
were passed by
the Parliament of India in September 2020
.
Farmer unions and their representatives have demanded that the laws
be repealed
and will not accept anything short of it
.
Over 159 farmers are dead since 27 January 2021, including 7 suicides, hundreds injured
.
Student Protest in Turkey 2021:
For over month students and teachers at Turkey's Bogazici University, which is one of the most prestigious universities in the country have been protesting against the appointment of a former political candidate and academic as the Istanbul-based university's rector
.
Let's understand the technology behind Bridgefy and why it is a choice among protestors all around the world
.
Bridgefy uses Bluetooth antennas by leveraging technology called Bluetooth Low-Energy, which allows it to connect Android and iOS devices
.
The differences between Bridgefy SDK and Bridgefy App are easy to understand:
Is for software developers to use

Can't

be installed

on your phone

Is software that powers other apps so they can work without the Internet
Is a mobile app for anybody to use

Is free and can

be used

right away, so tell

all of

your friends!
The most important question:- Is bridgefy safe to use for protestors.
Since October 2020 Bridgefy team implemented a famous end-to-end encryption
protocol "SIGNAL" to safeguard the users
.
Which has helped them in achieving the following capabilities.
All messages will be end-to-end encrypted

A third person will no longer be able to impersonate any other user

Man-in-the-middle attacks done by modifying stored keys will no longer be possible

One-to-one messages sent over the mesh network will no longer contain the sender and receiver IDs in plain text

A third person will no longer be able to use the server's API to learn others' usernames

All payloads will

be encrypted

Historical proximity tracking will not be possible
Various other business and leisure activity usage of Bridgefy can

be defined

in the following way

.
Using Bridgefy SDK enables communication in apps during large events like concerts, Music festivals, and Sports events

.

It can also

be used by

chat apps especially in large university campuses as well as large and small corporate campuses

.

Other uses are enabling gaming apps and dating apps to communicate over short distances without the internet

.

This can be a handy tool for IT admin of corporate companies who wants employees to discuss official communication on the company's app rather than WhatsApp, wechat, Facebook messenger, or telegram

.